53°24'15"N 000°335'05"W

runway: 06/24 - 1700x150yds - concrete
runway: 10/28 - 1700x150yds - concrete
runway: 17/35 - 2000x150yds - concrete
Hemswell air field (RAF Hemswell) was an airfield 210 kilometers north of London.
The airfield was built from 1935, it officially opened in January 1937. It was not the first airfield here however. Late in 1916, a field on the northeast side of the junction of what would eventually be the B1398 and A631 near Harpswell, was requisitioned for the Royal Flying Corps, intended to be used as a night landing ground named Harpswell. In 1918, 199 and 200 Training Squadrons were established at Harpswell. By the end of World War I several buildings, including four hangars, had been erected on its east side. However, the flying units and the airfield lasted not very long and within a year cattle was grazing the field again.

In the early 1930s, the site became a candidate for an expansion scheme airfield for the RAF. The lands were compulsorily purchased and construction began in 1935. Four Type C hangars fronted the center field, known as 'the bombing circle' and the logitsitcs and barrack sites were in close proximity behind them. Now officially named Hemswell, the station opened in early 1937 with 61 and 144 Sqns as the resident units. 144 Squadron arrived in February and 61 Squadron a month later. Both were equipped with Avro Anson and Hawker Audax aircraft, but Bristol Blenheims replaced these by January 1938 and those were completely re-placed by Handley Page Hampdens in mid March 1939.

Oblique aerial view of RAF Hemswell, Lincolnshire, from east-south-east. The airfield and the administrative, technical and domestic sites (right) lie to the north of the A631, seen running westwards towards Gainsborough, with the Officers' Mess and married quarters on the south side (lower left). At the time the photograph was taken, Hemswell was home to Nos. 61 and 144 Squadrons RAF, operating Handley Page Hampdens within No. 5 Group (ROYAL AIR FORCE BOMBER COMMAND, 1939-1941 © IWM (HU 53994)).
Both squadrons took part in the very earliest operations of the war. 144 Sqn suffered its first loss already on the 29th of September 1939, when a formation of five Hampdens was shot down over Heligoland.
Hemswell's Hampdens are credited with being the first Bomber Command aircraft to drop bombs on German soil on the night of 19 March 1940 during an attack on the seaplane base at Hornum. During operations with HP Hampdens from Hemswell, about 300 raids were undertaken. Also, by the end of June 1941, one of the few Manchester bombers that the squadron had on strength was lost.
In the summer of 1941, Hemswell and its satellite airfield at Ingham, became 1 Group airfields. The Polish 300 Sqn based at RAF Ingham -where the grass needed refurbishment- moved to Hemswell along with 301 Sqn, another Polish squadron, from RAF Swinderby. By joining both squadrons onto a single base, the language communication difficulties were concentrated at one location. A third squadron, 305, joined the two Polish squadrons during the next summer. However, in early 1943 the numbers of available Polish crews had dropped so low, that the decision was made to reduce the active bomber units. As a result, 301 Sqn was disbanded in April 1943, although some personnel remained on the airfield to join 300 Sqn. In June, 300 Sqn switched back to Ingham and they took their countrymen at 305 Sqn with them.

Wellington B Mk.IC coded GR-T, serial number X9616, of the RAF's 301 (Polish) Sqn at RAF Hemswell in 1941 (asisbiz.com)
The departure of the Polish squadrons allowed work to begin on concrete runways at Hemswell in order to bring it up to Class-A standard. The main runway (17/35) was to be 2,000 yards long, 06/24 was to be 1,550 yards and 10/28 just a little shorter at 1,500 yards. However, the ends of 24 and 28 were both extended to 1,700 yards, apparently still before the station re-opened. Some 36 asphalt pan-type parkings were put down in the 1940-1941 period, but during runway and perimeter track construction at least four had to be removed. Another six on the south side were compromised by being directly in front of runway 35. Sixteen of the remaining parkings were on the other side of the A631 accessed by long taxiways. It apppears that several of the original hardstandings were no longer considered to be suitable for aircraft parking, as new 17 loop-type parkings were added along the perimeter track. Also extra work was done to the bomb store situated northeast of the camp. Additional domestic accommodation resulted in facilities for about 3,100 personnel (male and female) at the station.
When the airfield re-opened in early 1944, it was used by 1 Lancaster Finishing School, which remained until November. Hemswell then became a satellite of Scampton and began receiving two recently re-formed squadrons, 150 and 170 Sqn. 150 Sqn flew its first operational sorties from Hemswell, but 170 Sqn had already started flying raids from RAF Kirmington. Both squadrons remained at Hemswell until they disbanded in November 1945.


One hour documentary made in 1981, published on YouTube, 20 Nov 2012. This is the full documentary film featuring Bob Chandler, or Flight Lieutenant Harris, as he is called here, who piloted the Lancaster 'V Victor' from RAF Hemswell. This is a rare colour film produced from actual bombing raids over Germany in 1944. I included it on this page because it shows daily operations at Hemswell airfield (YouTube).
In the immediate post-war years, Hemswell played host to a number of RAF units. Mosquitoes of 109 and 139 Squadrons stayed at the base until November 1946. In November that year 83, 97 and 100 Squadrons brought in Lincoln bombers, a type present for nine years as squadrons came and went. 100 Sqn moved away in 1950. 109 and 139 Squadrons returned with their Mosquitoes in 1950, converting to Canberra's in 1952-53. 199 Squadron operated from Hemswell from April 1952 equipped at various times with Lincolns, Mosquitos, Canberras and Valiants. Both 83 and 97 Sqn left Hemswell in December 1955, along with 109 and 139 Sqn. 76 Sqn, 199 Sqn, and the Lincoln Conversion Flt were the last flying units based at the station, leaving in 1957.
97 Squadron returned in another guise in December 1958, when three Thor medium range missiles were located on part of the base. The squadron was gone in May 1963, as the weapon was already obsolete when it was fielded.
For three years, the camp area then housed 7 School of Recruit Training, the barrack area being retained thereafter for overflow married quarters for Scampton. The hangars were used for intervention grain storage, a T2 being erected to provide further capacity. 643 Volunteer Gliding School continued to use the airfield between October 1965 and 21 April 1974.
Its barrack area served as a staging area for displaced Ugandan refugees in 1972.



Class photo of 3 Training Flight Intake 14-66, taken in front of one of the hangars at RAF Hemswell in 1966 (Edwin Morgan).
Hemswell was put up for sale in the early 1980s. The entire technical site and domestic blocks, including 22 post war married quarters, at RAF Hemswell were purchased from the MOD in May 1985 by a Welbeck Estate Group company, First State Holdings. The same company was also responsible for purchasing the NCO Married Quarter site at nearby RAF Faldingworth in 1981, the Bomber Command HQ at RAF Bawtry Hall in 1987 and 126 post war Married Quarters at nearby RAF Scampton in 1997. Welbeck have specialised in the acquisition of ex MOD sites (36 over the past 35 years) which included the entire related airfield and 70 MQs at RAF North Coates in 1991. As with RAF Hemswell and whilst in their ownership, Welbeck have never demolished any ex-military buildings, they only refurbished them.
RAF Hemswell buildings now serve many purposes: markets, antique restorations and, most notably, the old Officers Mess was converted into a hotel. The runways were removed for hard core aggregate in the 1980s. Fortunately Hemswell's substantial buildings of the pre-war camp site have endured into the next century. Although not preserved as a museum, the old road layout has been retained and most of the buildings have been restored for various new uses. The entire RAF married quarters was turned into its present role as part of the new parish of Hemswell Cliff.
To the delight of returning veterans in recent years, Hemswell is perhaps the only pre-war RAF Station converted to private use, which has retained its character and still has an unmistakable Royal Air Force feel to it.
A large fire in 2009 destroyed much of the northernmost C-type hangar. A plan to house 750 male illegal immigrants at the site did not meet much local support.

Former RAF Hemswell in 2008. Of the 4 large hangars facing the bombing circle, the northernmost was destroyed in a fire in 2009. It has since been replaced by a modern industrial hall (Google Earth).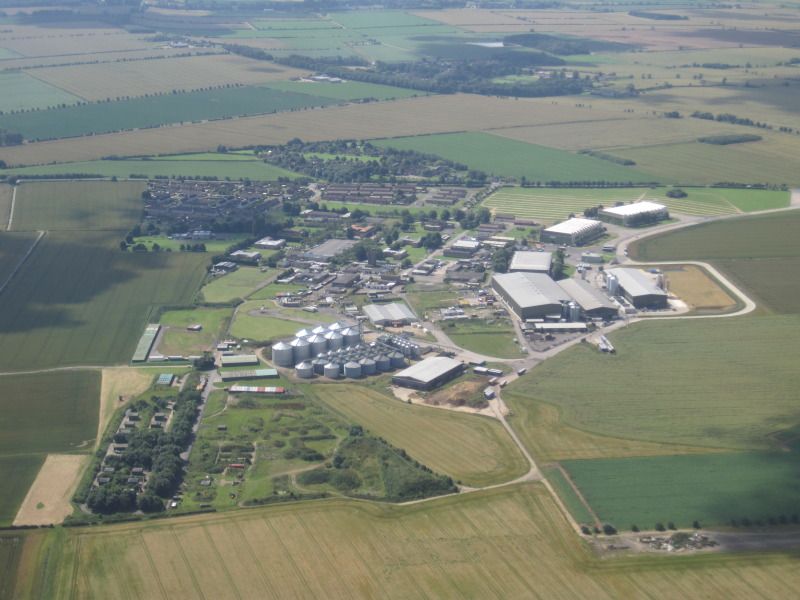 In August 2012, AirfieldInformationeXchange contributer Ossington_2008 posted this view of the airfield. The burnt out hangar 4 had been replaced by a 3 much larger industrial halls that did no justice to the historic Bomb Circle hangar front.

Note: this airfield was described earlier, using information supplied on the RAF website. Due to a 3rd party copyright claim, the part between 1940 and 1945 was rewritten, omitting certain information on units and dates.