53°27'48"N 000°34'34"W



Station crest for RAF Kirton-in-Lindsey
runway: 02/20 - ...x...m - grass
runway: 13/31 - ...x...m - grass
Kirton-in-Lindsey air field (RAF Kirton-in-Lindsey) is an airfield 220kilometers north of London.
The airfield opened on 5 April 1940 as a fighter base for No.12 Group. Although it is generally and officially referred to as the same unit as RFC station Kirton-in-Lindsey, it not. While the RFC station was located north of Kirton-in-Lindsey town, the RAF station is located to the south.
Between its opening and 1942, the airfield was for longer or shorter periods home to a lot of fighter squadrons operating Hurricanes, Spitfires or Defiants. Detachments from two squadrons flew Beaufighters and Mustangs. Kirton-in-Lindsey got an international flavour, with pilots (and even whole squadrons) coming from Poland, Canada, Australia, New Zealand and the United States. The United States pilots served in England in the form of three 'Eagle' squadrons: 71, 121 and 131 Sqn.
Kirton-in-Lindsey was allocated to the United States Army Air Forces' Eighth Air Force in 1942 and assigned USAAF Station number 349, coded 'KL'. From June 1942 until October, 94 Fighter Squadron of 1 Fighter Group at RAF Goxhill used the station for training with Lockheed P-38 Lightings. In October 1942, the 91st Fighter Squadron of the 81st Fighter Group used the station for training. They had arrived in Europe from Muroc AAF in California flying Bell P-39 Airacobras. The squadron remained until December, when they departed for French Morocco as part of Twelfth Air Force. In May 1943, the station was transferred back to RAF control for use as a Fighter Operational Training Unit with Spitfires of 53 OTU.



An early image of a 85 sqn Hurricane Mk1, taken at RAF Kirton-in-Lindsey in October/November 1940 (Photo via AirfieldInformationeXchange)

Boulton Paul Defiant Mk Is (L7006 'PS-X' nearest) of 264 Sqn RAF, being prepared for take off by groundcrew at RAF Kirton-in-Lindsey.
ROYAL AIR FORCE FIGHTER COMMAND, 1939-1945 © IWM (CH 880).



Polish engineers work on a Merlin engine of a 302 Sqn Spitfire in March 1943 (polishsquadronsremembered.com).
Unlike many other airifields, Kirton in Lindsey remained a front-line RAF base during the Cold War and afterwards. Over time, it had several units assigned. 7 Service Flying Training School with Oxfords, came from Sutton Bridge in May 1946 and moved to Cottesmore in 1948. Between 1948 and 1952 the station was not used for flying but for RAF training Schools. From 1952 until 1957, 2ITS (Initial Training School, later renumbered 1ITS) operated with Chipmunks to allow flying officers to retain their currency as pilots. Also using the station was 2 Grading Unit (civilian instructors from Airwork working for the RAF) between 9 Jun 1952 and 31 Mar 1953.
The airfield was closed and on Care and Maintenance between 1957 and 1959, although it remained in use by 643 Volunteer Gliding School during this time. 7 School of Technical Training and a Gliding School reopened the station between August 1959 and December 1965. In 1966, control of Kirton in Lindsey was transferred to the Royal Army.
The Royal Northumberland Fusilliers arrived in June 1966 and were immediately sent to Aden. When they returned in 1968, the batallion was renamed to the Royal Regiment of Fusiliers and the camp was known as 'St. Georges Barracks'. In 1972 the site was passed on to the Royal Artillery and the station was renamed 'Rapier Barracks'.



18 year old Flight Cadet Tony Swain and an Airwork Tiger Moth of the Grading School at RAF Kirton-in-Lindsey in 1952 (photo Airwork, found on copanational.org)
In 2004, the station was returned to RAF control. RAF Kirton-in-Lindsey became the home of 1 Air Control Centre (1ACC), a deployable ground-based early warning and air control radar unit having relocated from RAF Boulmer in 2004-05. The station is administered by, and provides accommodation and messing for personnel based at, RAF Scampton. In 2011-12, the technical site was vacated and 1 ACC moved all personnel and equipment to RAF Scampton. The Officers' Mess, Gym and a number of Service Families Accommodation remain open as a satellite of RAF Scampton.
Due to its constant occupation by the RAF and the Army Kirton is largely intact with many of the original 1940s buildings still standing. The Sergeants', Airmen's and Officers' Messes are still standing, as well as the barracks and married quarters. Although several internet sources report the control tower (watch office) to be derelict, I have found no photographic evidence to support that claim.



Overview of RAF Kirton-in-Lindsey in 2008 (Google Earth)



The airfield photographed in 2009 (TatraSkoda, on Flickr).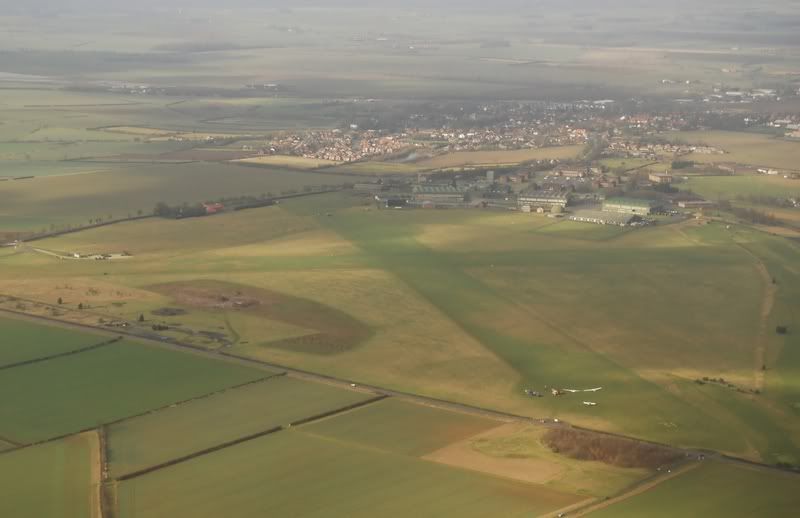 RAF Kirton-in-Lindsey photographed on 12 February 2011 showed that the airfield was still in use by gliders (AirfieldInformationeXchange).