53°20'47"N 002°52'51"W

Runway: 08/26 - 5,627ft - concrete (Closed April 82, very last use Aug '84)

Runway: 04/22 - 4,187ft - concrete (Closed 1958)
Runway: 17/35 - 4,192ft - concrete (Closed 1984)
Runway: 09/27 - 2285m/7497ft - asphalt (now in use by Liverpool John Lennon Airport)
Liverpool (Speke) Airport (also known as Speke Aerodrome, ICAO: EGGP) was the original Airport of Liverpool, 280 kilometers northwest of London.
Although it is officially still in use, I consider the current Liverpool John Lennon Airport a new airport, as it shares only the ICAO designator and the runway that was originally built for Speke in 1966.
Speke Aerodrome started scheduled flights to Manchester and London in 1930, but was not officially inaugurated until 1 July 1933. 100,000 spectators visited the airport and 246 aircraft attended the opening display. One of the first operators to use Speke was Blackpool and West Coast Air Services. Their first scheduled service was Liverpool-Blackpool, costing 18 shilling (90p.), including the return fare. Other early operators included Aer Lingus and Hillman Airways with D.H.84 Dragons and D.H. 89A Rapides. Others included Midland and Scottish Air Ferries with Avro 10 and Avro 642 machines. Railway Air Services also operated D.H. Dragons and K.L.M. Royal Dutch Airlines operated Fokker F.XVIII's from Amsterdam. Other operators quickly appeared, such as United Airways, Crilley Airways and British Airways.
Chapel House Farm served as a station building during the initial years of the airfield. It is seen here with a KLM Fokker F.XII. The website

chesterwalls.info

has a lot of very interesting photos of aircraft photographed in the 1930s.
In January 1936, the airfield also became home to the military when 611 Sqn moved to Speke. Their side of the airfield was to become known as RAF Speke.
By the late 1930s, it grew largely because of increased traffic across the Irish sea. During this time it's iconic station building was built (1939), along with its control tower (1937) and two hangars (1937 and 1939 respectively).
In May 1939 611 Sqn was equipped with Hawker Hinds and Fairey Battles and joined by 61 Sqn and 144 Sqn (Handley Page Hampden medium bombers).
Construction of the control tower in 1937(

SpekeLiverpool.blogspot

)
Spekes station building while under construction in 1938-1939 (

SpekeLiverpool.blogspot

)
When World War II began in September 1939, 5 Flying Training Sqn equipped with Oxfords moved to Speke from

RAF Sealand

. Military activity now exceeded civilian use of the Airport and by December 1939 yet another unit appeared (37 Sqn equipped with Wellington bombers). The latter did not remain very long. After 5 months of intense training, they left for the Middle East.
In 1940 the war effort increased. Liverpool's importance as a seaport caused an inevitable influx of aircraft flown into Speke, where they were dismantled and shipped abroad to destinations like Rhodesia, South Africa and various points along the West African Coast. At the same time, thousands of U.S. built aircraft were arriving at the Liverpool docks and transported to the Airport for assembly. The two main hangars were used to reassemble them. Meanwhile in the adjacent shadow aircraft factory, the Rootes Group produced a steady stream of Bristol Blenheims.
Speke was getting overloaded with aircraft, with sometimes as many as 200 being seen at the same time. 13 Sqn had arrived with their Lysanders and 1 OTU with Hudsons. 608 (West Riding) Sqn arrived for night training with Botha's and yet later No. 308 (Polish) Sqn equipped with Hurricanes was transferred from Blackpool Squire's Gate airfield. 308 Sqn soon moved to Coventry Baginton and was replaced by 312 (Czech) Sqn., also equipped with Hurricanes. It was one of No. 312's Hurricanes, that recorded Speke's first kill. The shootdown is thought to be the fastest air-to-air combat "kill" in the Battle of Britain and possibly of all time. Flight Lieutenant Denys Gillam took off in his Hawker Hurricane from Speke and was immediately confronted by a Junkers 88 passing across him. He shot the Junkers down while his undercarriage was still retracting, and, along with his 312 Sqn-mates Alois Vašátko and Josef Stehlík, he was credited with the kill. The Czech Squadron was replaced by 315 (Polish) Sqn. 766 Sqn of the Fleet Air Arm soon appeared with Roes. This latter squadron was engaged in Naval co-operation training.
While taking off from Speke in his Hurricane, a raiding JU88 crossed the airfield in front of Denys Gillam, who promptly shot it down. It was the fastest air victory of the war, and probably of all time. Robert Taylor made this painting of that event.
The Czechoslovak pilots hit German bombers more than once and the Liverpool inhabitants were very impressed, as this newspaper article shows (

south-lancs aviation research

).
In 1941 the Rootes Securities company was awarded a contract to provide Halifax bombers. These became the first Speke produced aircraft, which made its maiden flight on 15 March 1942. Two months later the Merchant Ship Fighter Unit arrived for catapult launch trials. These trials took place in the vicinity of the original farm house terminal building, adjacent to the River Mersey. The first launch of an aircraft from this equipment took place on 5 July 1942. The trials were successful and the Merchant Ship Fighter Unit remained based at Speke, while their Hawker Sea Hurricane aircraft were deployed on specially converted Catapult Aircraft Merchant (CAM) ships.
Three Fleet Air Arm Squadrons - 1832, 1834 and 849 - moved to Speke in 1943 operating a variety of aircraft: Martletts, Corsairs, Tara's and Hurricanes.
Throughout the war, assembly of American aircraft continued with the types now including Thunderbolts for USAAF. Rootes continued to produce Beaufighters, Blenheims and Halifax Bombers. From 1944 Speke's role as a military base began to dwindle, but the production of American types continued until the end of 1946.
During the war period 611 Sqn claimed over 240 enemy aircraft destroyed. Awards to officers and men included 10 DFC's and 4 Bars, 2 DFMs and 1 American Silver Star.
Halifax bombers await delivery (or in case of the front aicraft: the paintshop) at Rootes "Shadow Factory" at Speke Aerodrome/RAF Speke during World War II (Handley Page Association Collection, via

Aircraft Q Failed To Return

)
1945 map of RAF Speke (Nimrod 2010,

on Flickr

)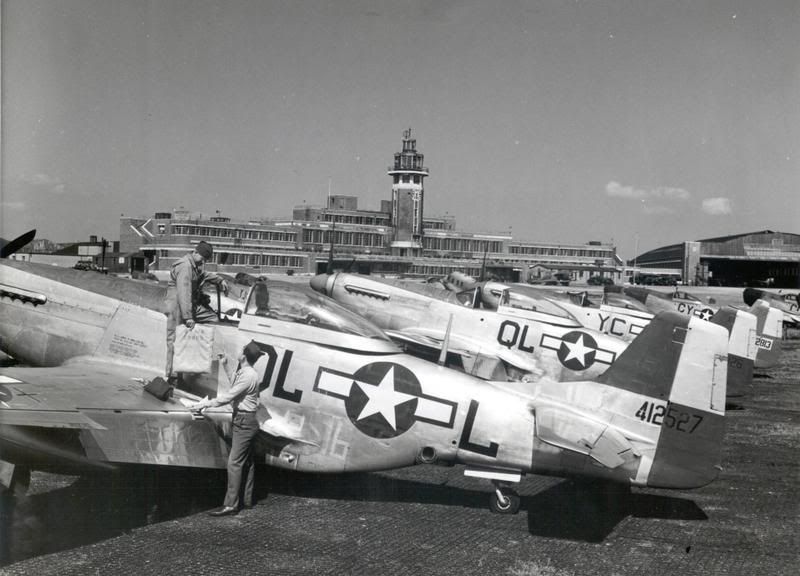 American airmen are processing a row of North American P-51D Mustangs in front of the Speke station building sometime after World War II (

Warbird Information Exchange

).
The completed station building, hangars and the presence of runways, but no aircraft would suggest that this photo was taken not too long after 1945. You are looking south towards the Mersey River. Can anyone point me in the right direction in when this photo was taken? (

SpekeLiverpool.blogspot

)
After the war, development work was carried out to the airfield by lengthening runway 08/26, enlarging the apron and constructing new taxiways. In 1961, the airfield was transferred from the Ministry of Aviation to the Liverpool Corporation. They immediately began construction of a new runway (09/27) to the east of the airfield, on the bank of the Mersey River. The new runway was opened by the Duke of Edinburgh on 7 May 1966. A new terminal was planned also, but as it would not be completed for several years, one of the hangars was partially converted into an international terminal. In 1972 the apron was changed by joining two aircraft stands into a large parking area, capable of handling a Boeing 747 or a stretched DC-8. In the mid-1970s the airfield changed ownership again: this time to the Merseyside County Council.
DeHavilland Dragon Rapides in 1946 (

chesterwalls.info

)
Postcard of a British European Airways DC-3 G-AGNK in front of the Speke tower, estimated ca. 1960 (

markfynn

)
In the 1960s, there were always plenty of spectators to be found on the balconies. Visible on the platform are a Vickers Viscount and a DC-3 (

chesterwalls.info

)
The Beatles return to Liverpool, filmed at Speke on 10 July 1964. Notice the terraces being packed with fans and Paul McCarthy commenting he used to go aircraft spotting there himself!
Overview of the Speke runways as seen from over the Mersy in August 1975 (kindly provided by Peter Hamer, via

airport data.com

)
In 1986 the old monumental Northern Terminal building was replaced by a completely new building near the newer 1966-built 09/27 runway, which by then was already the last remaining active runway. The taxitracks from the original Speke airfield to the new airfield were marked with large X-es, leaving only the new airfield operational. The new airfield was privatised in 1990, with British Aerospace gaining a controlling 76% stake. It was subsequently sold off to Peel Holdings in 1997, who obtained the remaining 24% in 2001. In 2002 it was officially renamed Liverpool John Lennon Airport, severing all ties to Speke airfield.
The Speke Aerodrome station building stood derelict for about 14 years. During this time, the building was featured on the cover art of the Oasis single Don't Go Away. The former Northern Terminal was bought by Neptune Developments in 2000. It has since been renovated and adapted to become a hotel, opening for business in 2001 as the Marriott Liverpool South Hotel. The adaption involved adding two new bedroom wings on the frontage of the hotel, but the airside aspect has been preserved intact. It has since become the Crowne Plaza Liverpool John Lennon Airport Hotel. The former apron of the Station building is also retained in its original condition, although it is no longer connected to the airport or subject to airside access control. It is the home of several aircraft, including BAe Jetstream 41 prototype G-JMAC, Hawker Siddeley HS 748 G-BEJD and Percival Prince G-AMLZ, all preserved by the

Speke Aerodrome Heritage Group

. A partially restored Bristol Brittannia is also on the platform. Additionally, the group looks after a replica de Havilland Dragon Rapide that is displayed in front of the hotel entrance. The two art deco style hangars that flank the terminal and apron have also been converted for new uses. One is now a David Lloyd Leisure centre, whilst the other has been adapted as the headquarters of the Shop Direct Group, and is now known as Skyways House.
The Crowne Plaza Liverpool John Lennon Airport Hotel, formerly the terminal building of Liverpool Speke Airport, from the former airside. The hotel is seen from the former airside apron of the airport. Both the central terminals and airside wings are original, as are the terraces which featured in old newsreel footage of screaming fans welcoming home the Beatles. The plane was a prototype for the BAe Jetstream 41, and is now preserved by a local aviation group. (Chris J. Wood, via

Wikipedia

,

CC BY-SA 3.0

)
Bristol Britannia G-ANCF on the former platform of Speke (

Britannia Aircraft Preservation Trust

)
Control tower at Speke Aerodrome, now the Crowne Plaza Hotel Liverpool South, 30 June 2013 (

calflier001

via

Wikipedia

,

CC BY-SA 2.0

)