Validation date: 31 10 2015
Updated on: Never
Views: 7804
See on the interactive map:

---
53°19'28"N 001°03'39"W

Runway: 04/22 - 1280m/1400yds - concrete slabs with asphalt surface
Runway: 10/28 - 1828m/2000yds - concrete slabs with asphalt surface
Runway: 16/34 - 1280m/1400yds - concrete slabs with asphalt surface

Worksop airfield (RAF Worksop, ICAO: EGYW) was an airfield 210 kilometer north-northwest of London.
Its history began in July 1942 when the Air Ministry requisitioned land from the Osberton Estate for the relisation of the airfield.
It was designed as a 'Class A' bomber base with three intersecting runways and built by construction company George Wimpey & Co. under the supervision of 680 General Construction Company, Royal Engineers. It was to feature a two storey Watch Office (control tower) with roof access, two type T2 aircraft hangars and 36 parkings for heavy bombers. Accommodation built north-east of the airfield supported the RAF and WAAF personnel. The new base was intended as a satellite site for RAF Finningley (todays Doncaster - Robin Hood) along with RAF Bircotes.
Construction began in March 1943 and on 23 September 1943 the air Ministry sent an Air Commodore to inspect the construction. That Air Commodore brought the first plane to land on the base; a Percival Proctor. The airfield was declared ready for use on 7 November.
On 11 November 1943, 18 (Polish) Operational Training Unit arrived with their Wellington bombers. Although the Polish were stationed at RAF Finningley, they intended to use RAF Worksop as their satellite base (along with RAF Bircotes). Initially, the whole squadron moved to the new airfield as RAF Finningley simultaneously closed for the construction of new concrete runways. Codes used by the squadron were XW and VQ.
Although a Polish unit, quite a few RCAF crew appear to have trained with the squadron too.
In December 1944 most of the pilots moved to 10 OTU at RAF Abingdon whilst the last trainees stayed at Worksop to complete their courses on 30th January 1945.
After this only small units operated out of the airfield. The first to move in was the Engine Control Development Unit, which moved in in March 1945 and stayed until they disbanded on 28 September. They were mainly involved with development and training of personnel on various engines used by the RAF at the time, including engine management and fuel efficiency. Various training appliances were used such as sectioned engines and aircraft equiped with flowmeters. Aircraft based at RAF Worksop during this time included Lancasters, Beaufighters and Wellingtons.

1 Group (Bawtry) had its Communication Flight based at Worksop from December 1945. Bomber Command's Central Night Vision Training School (CNVTS) came from RAF Finningley in 1946 and remeined until 7 June 1948. Their course lasted 11 days and taught the principles of night flying using various apparatus. Other units to use the base include Night Bomber Tactical Training School. By the end of the year, the airfield had been reassigned to Flying Training Command, who effectively mothballed it on a care & maintenance status.
Oddly enough, the airfield was home to army tanks too. In 1948 'A Squadron' of the 6th Royal Tank Regiment was assigned to 49 (West Riding) Armoured Division Training Regiment and based at the airfield. While based at Worksop, it trained personnel from the 45th (Leeds Rifles) Royal Tank Regiment. Their gunnery training was undertaken on field firing ranges in North Yorkshire. They moved out at some point, going to to Tidworth camp and Castlemartin, and went on to Germany in 1952 as part of 20 Armoured Brigade.



A major section of RAF Worksop in 1950. The control tower is the building with shadow at the bottom of the picture and just south of it is the square with the base code WP written upside down. (Photo coll. Chris Savage, via RAF Worksop homepage).

In the early Cold War period (1950's) the Korean War caused the Air Ministry to decide to reopen closed air bases to train new pilots. This was considered cheaper than spending between £750,000 and £1,500,000 on new stations. RAF Worksop was one of the nine chosen and it was pressed back into service as a fast jet training school for 211 Advanced Flying School, also known as the 'Meteor Advanced Trainings School'. 211 AFS would train pilots for the RCAFs 421 ' Red Indian' squadron. The reopened airfield would only use two of the runways: 04/22 and 10/28.

The AFS became operational on 11 August despite it having no aircraft on station. Eventually the first Gloster Meteor T.7's and F.8's arrived on 3 September and the first course started in November 1953. Although most training schools were using F.4s as single seat trainers at this point, Worksop was lucky enough to receive the brand new F.8s due to a shortage of available aircraft. While the base was initially tasked to train pilots on day role flying, this expanded to all weather training from January 1953. In total 25 T.7's and 31 F.8's were delivered to the airfield between 1952 and 1953. There was also an Airspeed Oxford and Pervival Provost used for station 'runabouts' and communication duties.
Due to the steel works around Sheffield and coal mines in the region producing airbourne solid particles, the airfield was noted as being one of two bases in 'industrial haze areas'. The haze (also known as smog) could reduce horizontal visibility to barely 1800 meters. To pilots the haze was known as 'clag' and the poor instruments on the Meteor meant that on days with particularly poor visibility the pilot had to cope with a false horizon as well as having no physical back-up. During the second course at the base, which started in December 1952, weather was so bad that the course did not complete until March of the following year, although this also had to do with heavy snow from mid-December to mid-January.
The School took pilots who had trained on piston engined trainers through the basic principles of jet aircraft, before they were moved on to an Operational Conversion Unit (OCU). The flying part of the course would give the pilot about 50 hours flying experience in the Meteor T.7 and in the single seat Meteor F.8.
Airwork Services provided maintenance and safety equipment at RAF Worksop during the 1950's. They had their own hangar to the south east of the airfield with an office next to the Radar room.
211 Advanced Flying School was renamed 211 Flying Training School on 1 June 1954.

In May 1955 the RAF's first jet squadron, 616 Sqn, arrived at Worksop with their Meteor F.8's. They had to leave RAF Finningley during the base's transformation into a V-bomber base. By this time 616 Sqn only existed as an auxiliary unit with most of its staff being part-timers. Their motto was "Nulla rosa sine spina" (No rose without thorns). Their Meteors were very distinctive from the trainers. Despite all aircraft being painted in 'high speed silver', 616Sqn's also carried the squadron markings around the RAF roundel, a small squadron badge on the port cockpit and an identification letter on the tail under the tailplane. 211 AFS machines only had large numbers in front of the roundel.
In April 1956 the Meteor Schools disbanded at Worksop leaving only 10 T7's and 6 F.8's of the refresher flying course at the airbase. During June 1956 this flight was recoded as 1 Squadron of 4FTS. On 9 June 1956 4 Flying Training School officialy moved in from RAF Middleton-St.-George bringing 108/109/110/111/112 Pilot Courses and their De Havilland Vampire FB.5s and T.11s. These aircraft arrived on 8 June (2 Squadron) and 30 June (3 Squadron).
Operational flying by 616 Sqn ceased in January 1957 and they were formally disbanded on 10 March.

The Vampire FB.5's on station were used to train pilots on solo flying. In 1957 the course at Worksop lasted 36 weeks with 110 hours flying - a vast improvement on the initial training in 1952. The Meteors which remained in service were retained for refresher training with 1 Sqn, whilst 2 Sqn and 3 Sqn became Vampire Units. 1 Sqn used the hangar in the north east area of the airbase whilst 2 Sqn were based in the north west area and 3 Sqn were based away from all the other buildings in the south west area of the airfield. The Meteors eventually gained red noses around the camera area.
The FTS eventually became an entirely Vampire squadron in early 1958.
4 FTS eventually disbanded on 9th June 1958 and the airfield again passed into Care & Maintenance. The Meteor refresher flying course moved to RAF Strubby with the remaining aircraft and equipment passing to 7FTS at RAF Valley. RAF Worksop was formally closed on 8 December 1960 and passed back to the Osberton Estate.



4 FTS 1 Squadron Meteors on November 1957 (Flickr)

Upon returning to the ownership of Osberton Estate all of the RAF buildings were quickly demolished. The airfield became fields for pigs and sheep and several areas of woodland were planted around the former base. Runway 10/28 remained intact however.
During the 1970's the Dukeries rally did three laps of the airfield as one of its stages. In 1973 driver Phil Brooks and co-pilot David Yorke crashed their Mini at the airfield on the third lap after hitting a gravel bank and going through a hedge.
Runway 10/28 was used to test Ferodo lorry brakes and also served as a display line up marker for pilots from Netherthorpe Airfield practising displays. On 7 August 1989 a Steen Skybolt biplane (G-BFHM) crashed just north of the runway, killing pilot Richard Fisher and seriously injuring the second pilot.
It later became a bit of a racetrack for boy racers, but it seems the final straw was when travellers moved onto the airfield in April 2004.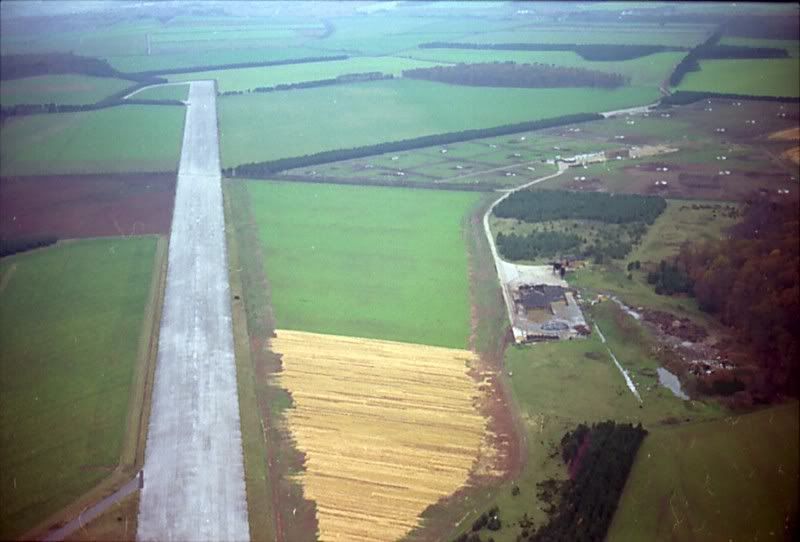 AirfieldInformationExchange user Ossington published this 1990 photo of Worksop looking west in a topic on the airfield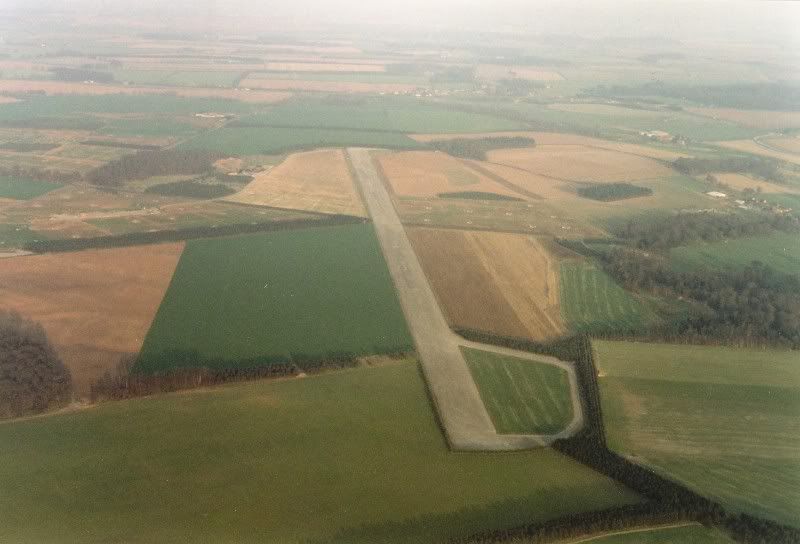 A similar photo, this time looking east, was posted by Ossington in the same thread at the AirfieldInformationExchange.

Aerial photography (Google Earth) shows that by 2004 most of the airfield had been pulled up and returned to agricultural ground. The roughly 500 tonnes of demolished runway was reused as levelling material for the Southfield site at the Newark Air Museum.
There are still a few remnants of the base left; some concrete aircraft tiedowns (for tying aircraft wings down in strong winds) and part of a taxiway to the north-east of the airfield as well as a small section of runway 28/10 near the road.
The remainder of the land is used for game hunting and horse riding and its pre-RAF use as sheep and cattle rearing. Wildlife is said to be numerous with birds of prey such as kestrels and buzzards.



Ca. 2000 aerial photo of Worksop as seen on Bing Maps



Worksop as photographed in 2010 (Google Earth).